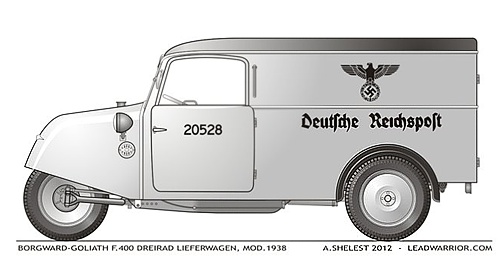 Engineer Carl F.W. Borgward founded the "Goliath-Werke Borgward & Co." in 1928, when Germany was in the midst of deep economic and political crises. Borgward started production of affordable and reliable utility trucks of his own design. This risky enterprise was successful. Nicknamed Blitzkarren, these 2-stroke-powered, 3-wheeled transporters with two seats were sold and exported by the thousands. Notably, in Germany until 1933, vehicles with less than four wheels and up to 350cc engines could be driven without a license and were tax-free. This subsequently formed Borgward's love of the 3-wheeler, and his appreciation of the 2-stroke principle.
Simultaneously, Carl Borgward used several production brands: "Hansa-Lloyd" for middle-class conventional 4-wheeled cars, "Borgward" for larger cars, and "Goliath" for 3-wheelers.
Production of the "Goliath F.400" 3-wheeled truck began in 1936. Its 2-stroke 2-cylinder 395cc engine delivered 12.5hp. Its top speed was 50 km/h, on a 2,5 meter wheelbase. Its maximum load capacity was 500kg. The price was RM 1225.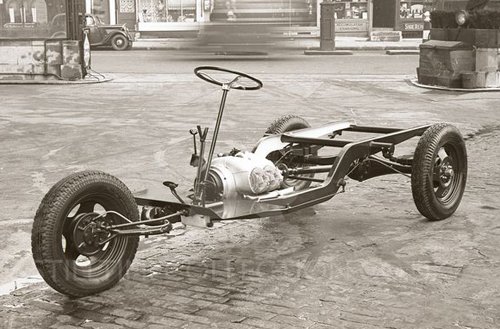 At least three different body variants were proposed - a conventional flatbed cargo version (Leadwarrior kit Lw35213), the Tiefpritsche - a truck with a deep, narrow bed (Leadwarrior kit Lw35211), and the Lieferwagen - a small delivery van, as presented in this kit.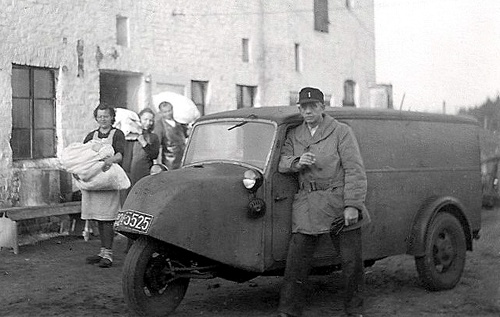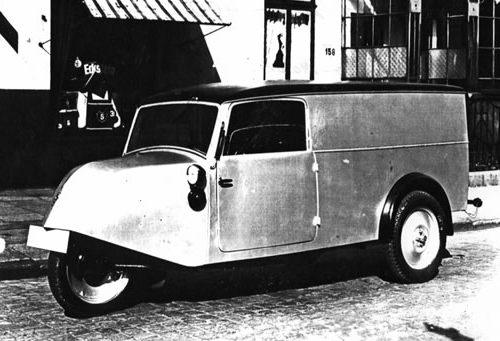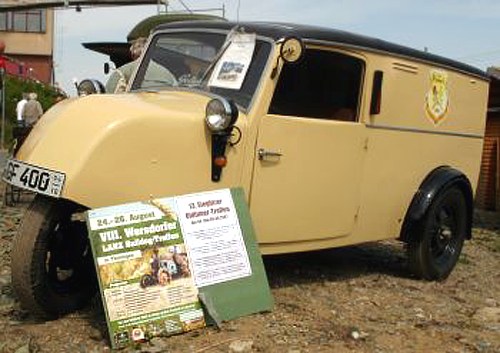 In 1938 the "F.400" went through a light restyling. The "Goliath" front badge was replaced by a Borgward emblem, and two rear lights were added.
This was a simple yet intelligent design. Thousands were sold, as it was optimal light delivery vehicle for small businesses, farmers, post-offices etc. Strangely, there are little war-time photos of "F.400" we know about.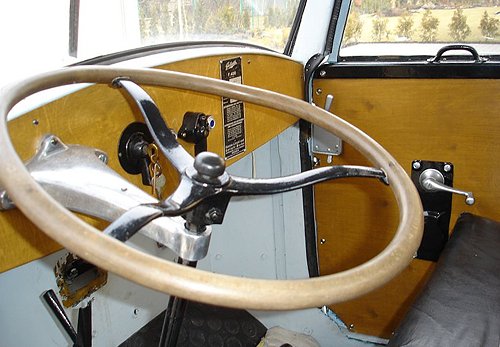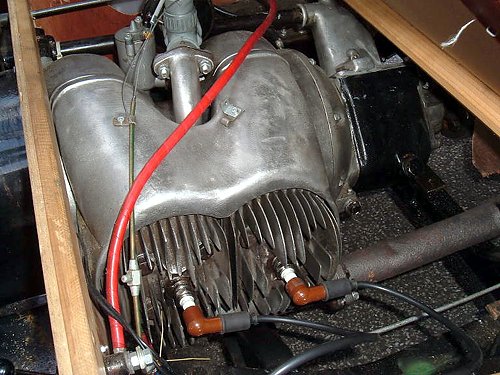 "F.400" production stopped in 1938, when Borgward became deeply involved in development of more advanced military vehicles. These included the famous Sd.Kfz.11 halftracks, remote-controlled demolition drones, and even a 4-man submarine on tracks, designed to crawl on the sea bed.
After the war, Borgward was jailed for his activities. After his release in 1948, he resumed production of peace-time vehicles, including the successor of the "F.400," the 3-wheeled truck "Goliath GD.750," which was produced until 1955.
Overall, 49 000 three-wheeled "Goliaths" were produced by 1961. About a dozen pre-war "Goliath F.400s" are preserved in museums and private collections, and most of them still run well.